CHALLENGE
As Ally Bank launched their "That's not Right" and "It's Payback Time" disruptor campaigns, they needed a complementary video that would raise awareness around the fact that there is $3.5 trillion sitting in American's bank accounts not earning interest. The video had to engage viewers but also inform consumers that they could be earning extra money with online banking.
STRATEGY
Osmosis Films created a "Man on the street" style video, featuring comedian Mark Malkoff interviewing real consumers about their sentiments on money, banking, and interest rates. To achieve maximal visual branding synergy the video shoot was set to coincide with an Ally Bank advertising takeover of Fulton Street Station in New York City.
RESULT
The resulting 2 minute video aggregated a myriad of candid reactions captured in response to consumers learning about better banking options. Ally deployed 30 and 60 seconds cut downs across social media, and shared the full length clip on youtube. The videos continue to serve as a great resource for Ally Bank to promote their "higher than average" interest rates and engage with their audience.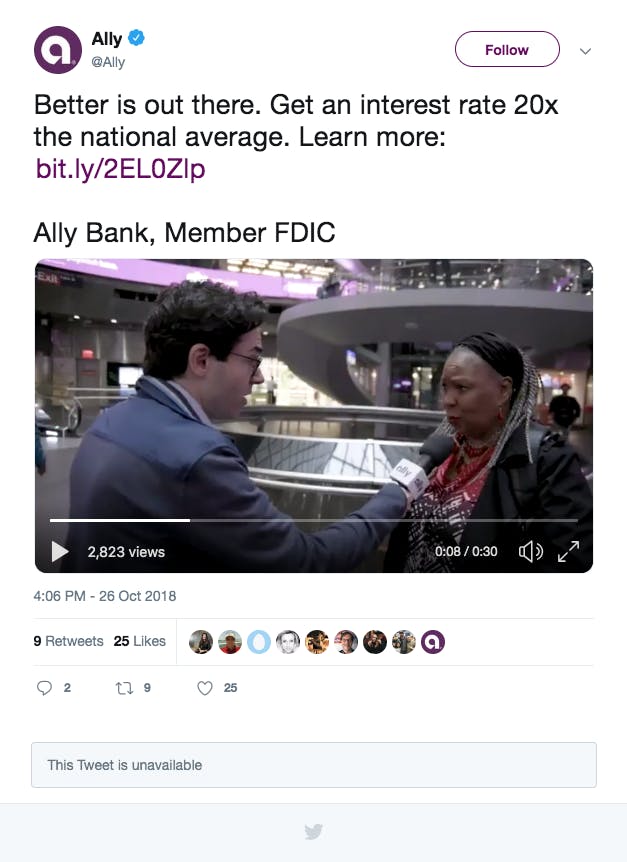 Osmosis animation featured on Ally Bank's social channels
The video was featured on Ally Bank's Twitter.