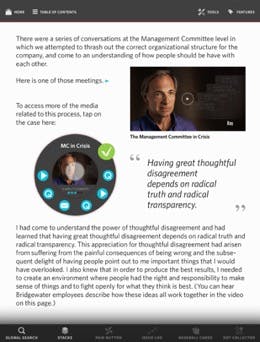 CHALLENGE
Bridgewater Associates is the largest hedge fund in the U.S. Bridgewater has a unique set of cultural principles that are in many ways the bedrock of the company. The challenge we helped solve was how to continually educate and train the Bridgewater workforce using all available mediums.
PROCESS
Over a four-year process, we helped Bridgewater's founder Ray Dalio create hundreds of videos that demonstrate Bridgewater principles in action at the company, and explain their rationale. We also helped design an e-book to present the videos and the text of Ray Dalio's book Principles, along with quizzes to test retention.
RESULT
Ray Dalio, founder and chairman of Bridgewater, has said the videos and interactive case studies have been a crucial factor in building and sustaining the strong culture and community at Bridgewater. We also created other videos to document important events, such as the company's 40th anniversary, and critical moments in the company's history - such as their response to the financial crisis.